Asphalt Mixing Plants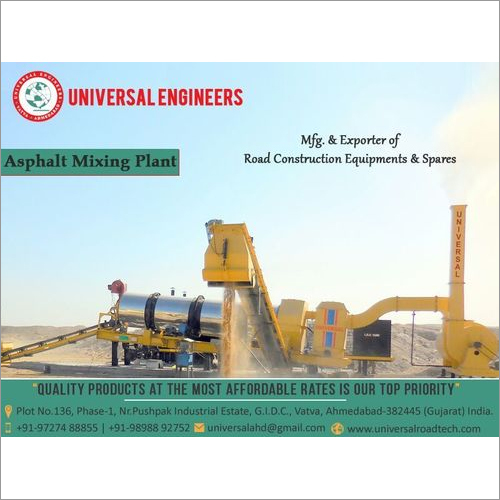 Asphalt Mixing Plants
Price And Quantity
2500000.00 - 2700000.00 INR

3100000 INR
Product Specifications
Product Description
Asphalt Mix Plants
Universal offers stationary & mobile continuous type parallel flow Asphalt Mix Plants for producing quality hotmix for flexible pavement construction.

The ingredients of the hotmix, in required proportion, are continuously fed to the rotating drum in drying & mixing zones and the discharge end of the drum delivers continuous output of the hotmix. The main ingredients of hotmix are virgin cold aggregates of different grades, asphalt (bitumen) and mineral fillers.
The main components of Asphalt Mix Plants are Multiple Cold Aggregate Feeder Bins, Single Deck Scalping Screen, Slinger Conveyor, Rotary Drum, Burner, Load out Conveyor, Asphalt Tank, Mineral Filler Unit, Fuel Service Tank, Wet Scrubber and Control Panel. In the process, the cold aggregates of different grades that are stored in the Multiple feeder bins are transferred in required proportion to the primary section of the rotary drum through slinger conveyor. The burner fitted on the in feed side of the drum produce appropriate flame to remove the moisture from the aggregates and heat the dried aggregates to the desired temperature in the primary section of the drum. The hot aggregates then travel down the secondary section where they are mixed & coated with the asphalt & filler material. The asphalt and filler material are pumped in the secondary section in predetermined proportion from asphalt tank and mineral filler unit respectively. These hotmix from the drum is then transferred to truck through load out conveyor.
The variable drive unit of aggregate feeder bins, asphalt tank pumping unit & mineral filler unit are synchronized with each other and with weighbridge to maintain the proportion of all hotmix ingredients as per set job mix formula.The fuel (LDO / Diesel) to the drum and asphalt tank burner is supplied through pumping unit from service fuel tank. The heavy dust is collected by the multi cone type dust collector and the exhaust is passed through wet scrubber type pollution control unit before letting it to the atmosphere. Asphalt Mix Plants offer advantages of higher production rates, less moving parts, lower maintenance, simple to operate, lower fuel consumption & better economy compared to other design.

Output capacity: in the range of 30 TPH to 120 TPH.

Trade Information
As Per As Capacity Per Month

Depends On Order Days